green house plans
All of our house plans can incorporate green building features. Whether you're interested in building a certified green home, or just want to use healthier, low-VOC paints and energy efficient insulation, your plans can include the green building notes and features that meet your needs.
What are Green House Plans?
Green building utilizes the latest technology to develop in such a way that minimizes harmful effects on the environment, indoor air quality and health while enhancing today's lifestyle with quality, timeless materials. Sustainable design also produces less waste. High-quality, timeless materials and well thought-out floorplans and designs will reduce the need for future remodeling or demolition. We spend time planning out your custom home project, considering things like how your family will use the space tomorrow vs. 10 years from now, and the orientation of the sun when deciding on window and patio placements. Our consultants can suggest quality, healthy, timeless materials rather than low-cost trendy options. Energy efficient materials such as cellulose or spray-foam insulation, dual pane low-e windows and doors, and energy star appliances can reduce your utility costs while helping to conserve natural resources and minimize pollution. Read more about green building >

View Green House Plans >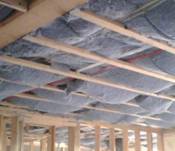 Recycled blue jean insulation is a green alternative to traditional fiberglass batts.